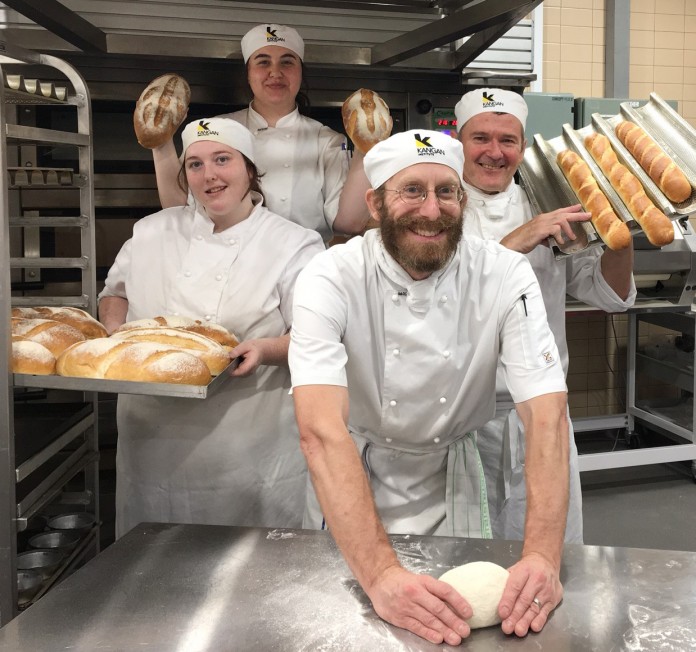 Kangan Institute Retail Baking students, Bruce McDonald and Ivan Jurcic, have taken out first place prizes in the White French Stick and Novelty Cake categories at the 2017 Victorian Baking Show.
More than 590 bread, cake and pastry products were judged at the event held on 4 March with competitors representing over 90 bakeries and educational institutions across Victoria.
"I couldn't be happier about the win," said Bruce. "There was quite a bit of pressure in the morning as there were issues with the oven and things weren't going according to plan. But we adjusted the cooking schedule and got it done.
"I credit this award win to my teachers who gave me the skills to create quality products. French sticks preparation may not seem complex, but we need good hand skills to roll it into a consistent long form and knowledge on how to get that lovely crispy crust without burning it."
As a young father who decided to pursue a career change after many years working at a call centre, Bruce highlighted the value of pursuing training in a field he loves.
"I've always been interested in baking. I love working with my hands so a real, hands-on job is really good for me. If you like baking and feel you have a passion for pastries or cakes, the teachers at Kangan Institute can support and inspire you to take it further," said the high-achiever who recently graduated from the course Certificate III in Retail Baking (FDF30710).
"My next steps are to find a baking job where I can happily practice my art and my teachers have already connected me with potential employers."
Kangan Institute was represented at the baking show by other students and apprentices including Christopher Porter, Athirah Basalamah, Janet Sleiman, Heidi Liedtke, Tina Cafaro and Miltiadis Polyhronidis.Second place awards were attained in the White Vienna, White French Stick, Pane Di Casa and Novelty Cake categories.
Kangan Institute's Retail Baking programs cover bread, cake and pastry streams. Courses are conducted at its new Retail Baking facility at the Broadmeadows campus. Visit kangan.edu.au for more information about the programs.