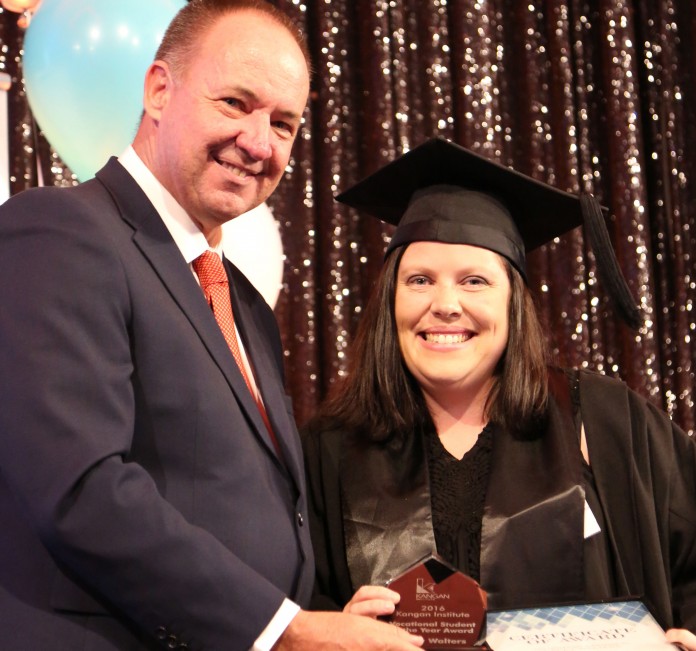 Kangan Institute held its annual Graduation and Awards Ceremony on Thursday 23 February at The Australian Events Centre to celebrate students' achievements and success throughout 2016.
The ceremony recognised over 130 graduates and top achievers from a wide range of study areas, including health and community, professional and creative industries, automotive, foundations, construction and industrial, food and fibre, and Indigenous education.
The top award – Vocational Student of the Year sponsored by ANZ Bank – was presented to Diploma of Early Childhood Education and Care graduate Lacey Walters (pictured above) who returned to education after many years as a stay home mother to four children.
"I was 18 when I had my first child and left school halfway through Year 11. I was out of education and training for so long that I was scared of coming back. But the way the teachers run the classes made me feel comfortable and supported," said Lacey, who is now employed as an early learning centre room leader.
"I want to advocate for children, especially vulnerable children, and hopefully make a difference in their life."
Award winners for the evening include:
Vocational Student of the Year & Gold Medallion (Health & Community) – Lacey Walters
Vocational Student of the Year sponsored by: ANZ Bank
Gold Medallion (Health & Community) sponsored by: NORTH Link
 Gold Medallion (Automotive) – Conor Ryan
Sponsored by: Apprenticeships Group Australia
Gold Medallion (Professional & Creative Industries) – Stephan Long
Sponsored by: Social Garden
Gold Medallion (Foundations & Pathways) – Sophie Hernandez McCarty-Ellis
Sponsored by: Mercedes Waratah
Gold Medallion (Construction & Industrial) – Nellie Baker
Sponsored by: MAS National
Gold Medallion (Food & Fibre) – Rebecca O'Brien
Sponsored by: Rotary Club of Pascoe Vale
Uncle Norm Hunter Gold Medallion (Indigenous Education) – Aunty Janice Bakes
Sponsored by: Broadmeadows Magistrates Court
Arnold Davis Koorie Student of the Year – Tamani Nicholls
Sponsored by: Broadmeadows Magistrates Court
 Foundations Adult Learner of the Year – Fadi Adel Azeez
Sponsored by: Rotary Club of Essendon
Inspirational Student of the Year – Harry Milward
Sponsored by: Rotary Club of Pascoe Vale
Full profiles of the award winners are available at: www.kangan.edu.au/2017awardwinners