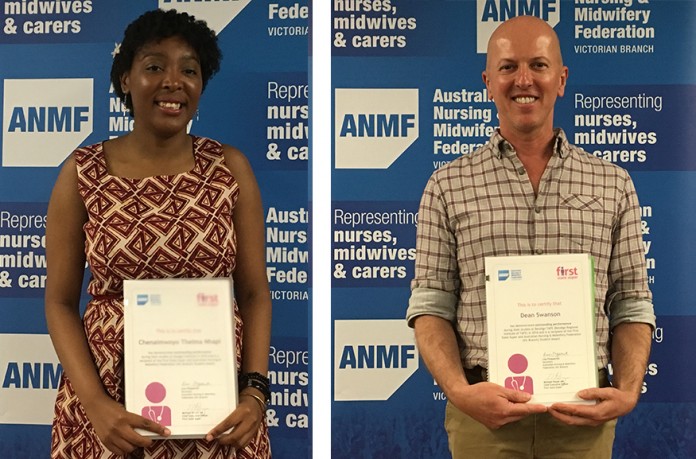 Our nursing students Thelma Nhapi and Dean Swanson were awarded the 2016 Australian Nursing & Midwifery Federation (ANMF) – Vic Branch Student Nurse Award in December.
The award recognised a final year Diploma of Nursing student who has demonstrated attributes intrinsic to nursing practice, such as excellent communication and interpersonal skills, understanding of ethical and professional nursing, and an appreciation of the concept of excellence in nursing practice.
Thelma, who moved to Melbourne from Zimbabwe last year, said the award was an opportunity for her to gain a foothold in the dynamic health industry.
"I was pretty ecstatic to hear that I've won the award. It means so much to me that all my hard work paid off. I think this award will open a lot of doors for me as future employers will be confident that I'm good at what I do," she said.
The 24-year-old chose to study nursing at Kangan Institute as it enabled her to make a positive difference to the life and wellbeing of others.
"I had completed a Bachelor of Marketing and Management but I realised that it wasn't really what I wanted to do. I decided to do the Diploma of Nursing and it's been pretty good. As a nurse, you can change someone's life and do so much to help people. You're giving back to the community," she shared.
"Next year I'm planning to work as a nurse while doing my masters in human and health services management. I hope I'll be able to get into hospital management and work in human services. In the future I also plan to do my masters in nursing practice and get into academia."
No stranger to the health industry, Dean enrolled in the Diploma of Nursing at Bendigo TAFE to fulfill skill requirements of his job as an anaesthetic assistant.
"I've been working as an anaesthetic assistant since 2010 at the Alfred Hospital in Melbourne and since 2015 with Bendigo Health. As Bendigo Health was replacing the role of anaesthetic assistants with anaesthetic nurses, I needed to enrol in nursing to retain my position," he said.
"The advantages of studying at Bendigo TAFE included being in the company of students of diverse ages and backgrounds, as well as the respectful nature of the lecturers who acknowledged my prior professional experience."
The 48-year-old says that coming back to education has inspired further studies at university level and new career aspirations.
"I wouldn't hesitate recommending Bendigo TAFE to future students who are looking to further their career or seeking a pathway to university," he said.
"After my completing my diploma qualifications I will continue working as an anaesthetic assistant/nurse while completing the Bachelor of Nursing at La Trobe University. I will also have gained an extended scope of practice and will register with the Australian Health Practitioner Regulation Agency as an enrolled nurse."
Dean thanks his TAFE teachers for their role in helping him achieve the prestigious award.
"The honor of being awarded the ANMF Student Nurse Award was very humbling. To have been nominated by my lecturers at TAFE made it all the more meaningful as I hold them in such high regard as positive role models and mentors," he said.