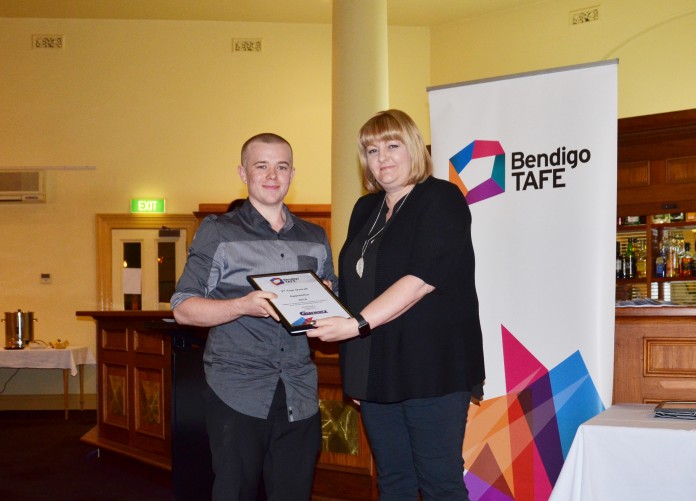 Bendigo TAFE's top commercial cookery apprentices were recognised at its annual Apprentice Showcase Dinner and Awards Night held on 29 November.
Awards presented on the night were:
1st Year Apprentice for Workplace Based Training – Allira Hudson, of The Goldmines Hotel
1st Year Apprentice for Classroom Based Training – Andreas Frank, of All Seasons Bendigo
Overall 1st Year Apprentice – Brianne Stanley, of The Boardwalk Bendigo (Bree has also been recently selected as one of the 34 competitors for the Australian-wide 2017 Fonterra Proud to be Chef Challenge)
2nd Year Apprentice for Workplace Based Training – Edward Coverdale, of The Shamrock Hotel
2nd Apprentice for Classroom Based Training – William Garrard, of Mrs Pritchard Pantry Maldon
3rd year Hospitality Department Award Apprentice – Daniel Boucher, of The Woodhouse
Overall 3rd Year Apprentice – Harry Gibbs, of Source Dining in Kyneton
"Our commercial cookery training program has produced cohorts of outstanding graduates who are able to combine culinary skills and expertise with their personal creative flair," said Bendigo TAFE's education manager for business and professional Shawn Vlaeminck.
"Employment outcomes are a key focus of our courses, with our graduates poised to take on great careers within the local hospitality industry and beyond."
The evening also featured the culinary genius of seven apprentice chefs who served a delectable five course meal for guests. The event was supported by local sponsors including Hazeldenes, B & B Basil, JL King & Co., Piper Street Food Co., Meat Matters, Feed of Fish and Hip Pocket.
Bendigo TAFE's commercial cookery program is one of a suite of hospitality programs offered at the TAFE, including the newly-introduced Certificate IV in Hospitality and Diploma of Hospitality Management offered in conjunction with William Angliss in Melbourne.