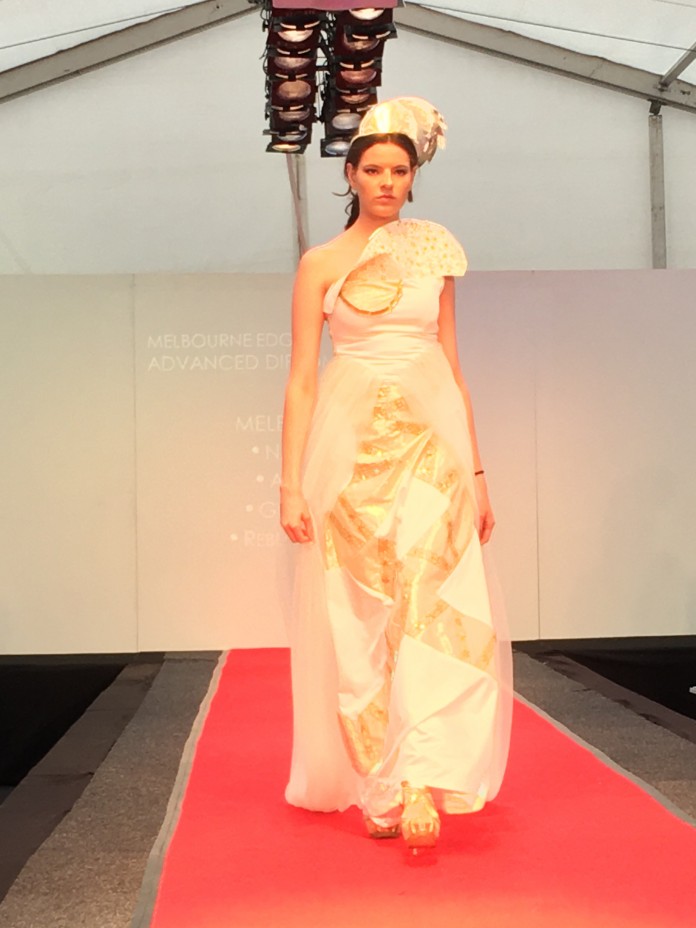 From avant garde and little black dresses right through to upcycled creations, Kangan Institute's annual fashion parade, Melbourne Edge, unveiled an outstanding range of creative designs by Australia's next top fashion designers.
Held yesterday at our creative Richmond campus, Melbourne Edge showcased fashion and millinery collections, unique visual merchandising displays, hair and beauty students' artistic looks, and food and entertainment by hospitality and music students.
On the night Kangan Institute's CEO Trevor Schwenke congratulated fashion students on their achievements and highlighted the value of extensive collaboration between the Institute's study areas and its industry partners.
"Events like these are an opportunity to show off and celebrate the creativity, hard work and commitment of our students. Tonight's event has been a fantastic collaboration between quite a few of our study areas. It's an amazing example of the real skills and practical delivery we offer at Kangan Institute," he said.
"I would also like to thank our industry partners – with your support and collaboration we have provided our students with real outcomes and pathways, not just certificates.
"Together we have delivered real education and skills through our collaborative projects. And many of the work experience placements and internships you provide have converted into real jobs for our students."
Student award winners for the night include:
College-based Hairdressing Student of the Year – Carly Lawrence
Sponsor: Shear Genius, Hair Care Australia
Hairdressing Apprentice of the Year – Ciara Remfrey-Petit
Sponsor: Shear Genius, Hair Care Australia
Outstanding Visual Merchandising Student – Corinne Dimeglio
Sponsor: Deans Art (Winner also awarded an internship at The Design Depot)
Outstanding First Year Fashion Student – Krittika Sillapasomasak
Sponsor: Tylers Fabrics (Winner also awarded an internship at Perri Cutten)
Outstanding Diploma Fashion Student – Katelin McEwan
Winner awarded an internship at Sussan
Technology Award – Yisha Wang
Sponsor: The Fabric Store (Winner also awarded a Gerber workshop session)
Outstanding Upcycle Student – Rachel Jory
Sponsor: The Australian Red Cross
Outstanding Advanced Diploma Student (Women's Wear) – Dimity Anderson
Sponsor: M.Recht Accessories (Winner also awarded internship at Tiffany Treloar)
Outstanding Advanced Diploma Student (Men's Wear) – Maelle Moreau
Sponsor: Jack Stock (Winner also awarded internship at AMME Events)
Best Runway Collection – Jessica Lawrence
Sponsors: Silk World and Kangan Institute