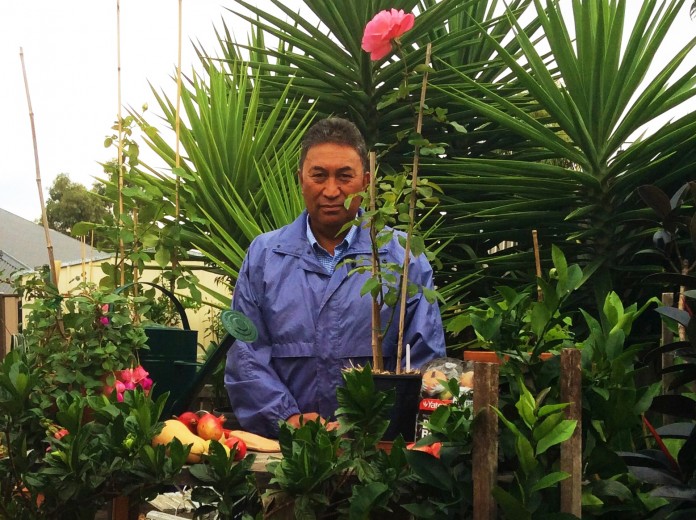 When Hully Te Huia first enrolled in Kangan Institute's horticulture certificate course, he didn't realise that he'd be planting the seeds to a successful career in garden maintenance.
The Certificate III in Horticulture graduate now owns his own gardening business, Never 2 Late Horticulture, where he works with clients to redesign their gardens and create delightful outdoor spaces for enjoyment.
"Horticulture is about working with nature, and understanding that there is a safe and friendly way to restoring our environment. I love how the birds and bees interact with nature and the elements that bring wealth and healthy living to our wonderful planet," said Hully.
Awarded Kangan Institute's Horticulture Student of the Year earlier this year, Hully had returned to studies after retiring from work as a wool scourer.
"I retired but I thought, I've got to do something, and horticulture was something I've always wanted to do," he said.
The 66-year-old said that his time as a student at Kangan Institute's Broadmeadows campus was a delight over the six-month course.
"My time at Kangan Institute has been the highlight of my life. With my assignments in hand and eager to see what was in store for my next encounter, I wouldn't miss it for all the tea in 'China'," he said.
"I couldn't believe that I had been given the opportunity to experience a lifelong dream made possible with the help of my teachers."
Hully is a keen believer of learning, no matter your age or background.
"Winning student of the award has made me realise that you must never assume that you're too old to learn. All you need is passion and a belief and determination that you can do it," he said.
"I found it challenging at times after being away from a classroom situation for so many years. However I feel very humbled and privileged to have won this award."
To Hully, his work is more than a career. It fuels his inspiration and passion in environmental sustainability.
"Through this course I have come to understand how important our environment is and that as individuals we need to take responsibility for it," he shared.
"The garden –whether I'm just enjoying sitting in it or working in it – is such a contemplative space and good for the soul."
To find out more about our horticulture programs visit our horticulture page here.