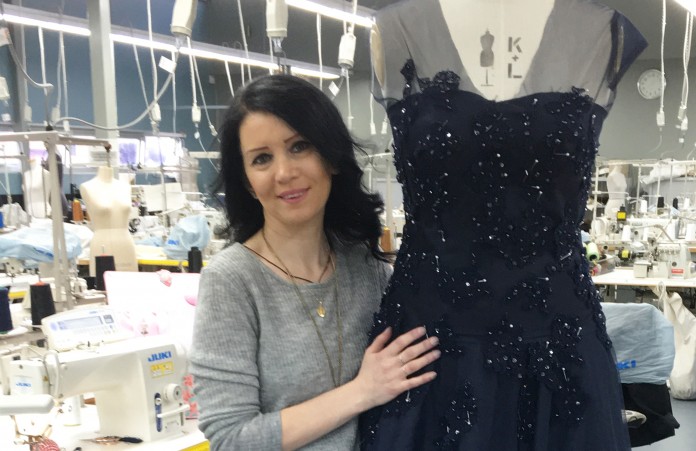 Kangan Institute's fashion student Nazdar Polos has clinched a much coveted opportunity to design an evening gown for Gill Callister, Secretary of the Department of Education and Training, for the prestigious Victorian Training Awards ceremony.
Nazdar was chosen from a pool of Victorian TAFE fashion students who responded to the Department's request for creative design submissions.
"I was very surprised to be selected and I'm really happy and excited," she shared.
Nazdar's success comes after years of hard work and devotion to her art. She moved from Iraq to Australia as a refugee in 2007. Her first task was to learn English from scratch, a challenge she overcame through two years of language classes at Kangan Institute's Broadmeadows campus.
As Nazdar's confidence in English blossomed, so did her aspiration to pursue a future in designing eveningwear. Enrolling in a fashion course was the natural next step to build on her foundational knowledge of handmade dress making and tailoring techniques acquired during her formative years.
Today, her unique designs reflect the cultural traditions of her vibrant North Iraq background, from its architecture to textiles and arts.
"I love fashion; it is my dream. In my culture we use a lot of embellishments and embroidery, so that's been a big inspiration as I create evening dresses," she said.
The up-and-coming designer has progressed through certificate and diploma levels of Kangan Institute's fashion program, and is currently in her final months of the Advanced Diploma of Applied Fashion Design and Technology at Richmond campus.
"Kangan Institute gave me everything. My teachers are so nice and kind, and they really encouraged me, especially with my language. One of my favourite parts of the course was learning to do sewing and patternmaking," she said.
This latest achievement will take Nazdar one step closer to her dream to open her own bridal and eveningwear business.
This year's Victorian Training Awards will be held on Friday 26 August at Crown Palladium to honour outstanding training providers, teachers, vocational students and more.