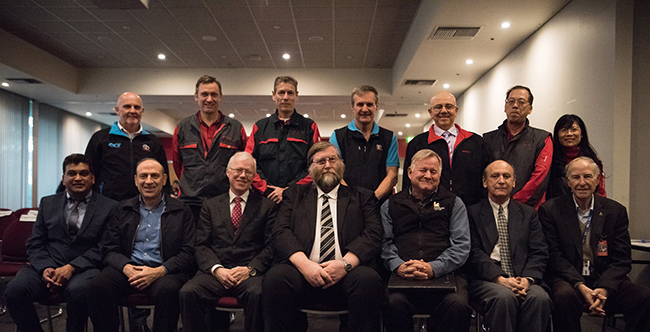 Nearly 80 workers at Toyota Australia are looking forward to revving up their careers with new Kangan Institute qualifications presented to them on 10 August.
Held at Toyota's North Altona branch, the event was attended by Toyota Australia's president David Buttner and key representatives from management.
Kangan Institute representatives included executive director of studies  (automotive, construction and industrial) Phill Murphy, automotive education manager Adrian Lauder, manufacturing lead educator Juris Liberts and teachers Joe Dougherty, Juan Carrasset Alarcon, John Ferraro, Jeff Prentice, Daniel Nand and Sam Krooglik.
"We'd like to congratulate the 76 Toyota graduates who put in an incredible amount of work to learn, and relearn, vital skills and achieve great qualifications," said Phill.
"Kangan Institute is proud to partner with Toyota Australia to assist their workforce with its ongoing development and transformation in line with evolving business needs, priorities and goals. We wish the graduates the very best as we are confident that their new skills and qualification will enable them to progress further in their careers."
Graduates completed courses in competitive systems and practices, project management, logistics, and training and assessment, with the programs tailored to Toyota Australia's specific needs.
For more information about Kangan Institute's workforce development solutions click here.
(Photos credit: Tom Murphy of Toyota)