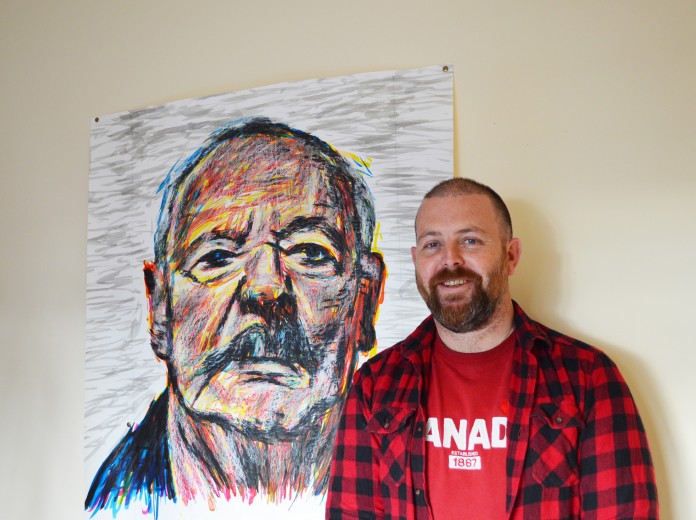 Kangan Institute's visual art teacher Thomas Delohery has been named a finalist for the prestigious 2016 Black Swan Portraiture Prize.
He joins 39 other finalists from across Australia to be considered for the top award – the $50,000 Lester Group Prize – which will be announced on 14 October.
"I couldn't believe that I was selected as a finalist. To say I was excited is an understatement," said Thomas.
The subject of his portrait is author and child Holocaust survivor Henri Korn, whose experiences served as a great source of inspiration for Thomas since they met in 2011.
"I was very fortunate to get to spend time with Henri Korn on a regular basis and the next logical step was to ask him to sit for me so I can try and paint the wonderful presence that he exudes," said Thomas.
"I've painted Henri for two major portrait prizes in 2016 – the Doug Moran and the Black Swan Portrait Prize. Henri will also be using my artwork for the front cover of his latest book."
Thomas currently teaches visual art as part of Kangan Institute's Victorian Certificate of Applied Learning (VCAL) program at Broadmeadows and Richmond campuses. He highlights that his passion for arts and creative accomplishments in industry provide a rich source of content for his classes.
"What I love most about creating art is the creative process itself, learning new skills and meeting interesting people through my art practice," he shared.
"The continued pursuit of my own art practice in industry feeds very much back into my training methodology. My classes are very industry-focused, such as how to use social media tools to connect with industry professionals, likeminded individuals and future stakeholders in a positive way. I aim to get them industry ready for their future pathways, whether that is further education or employment."
Thomas has received numerous accolades for his creative prowess – the Irish-born artist had moved to Australia upon achieving a Distinguished Talent Visa and was recently appointed artistic curator for the Richard Harries International Film Festival.
His Black Swan portrait entry, I'm still here, will be on display at the Art Gallery of Western Australia's Black Swan Prize exhibition from 8 October.