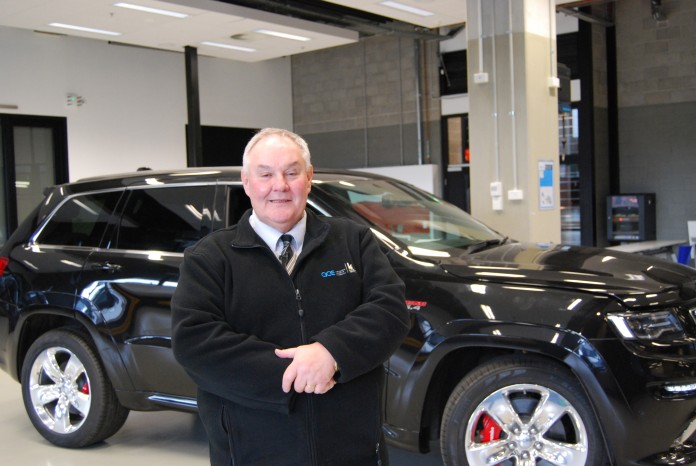 Kangan Institute's automotive training advisor and teacher Luke Perry has been shortlisted as a finalist for the Victorian Training Awards' VET Teacher/Trainer of the Year. The announcement was made by the Minister for Training and Skills Steve Herbert on 12 July.
A veteran teacher with over 20 years of experience, Luke is the lead automotive teacher in the delivery of employer and apprentice work-based training and education . He is one of Kangan Institute's pioneers in adopting a flexible training style – one that combines face-to-face workplace learning with online material to meet the individual learning needs of his students.
"I'm honoured to be a finalist in the Victorian Training Awards," he said.
"I truly believe in the importance of innovative training that meets the unique needs of industry and students. Being shortlisted for this award is a recognition that my training delivery has made a positive difference to the individuals and businesses that I've worked with."
Minister Herbert also announced the following finalists: Kangan Institute's Certificate II in Business graduate Amanda Gharib for Victorian Vocational Student of the Year and Bendigo Kangan Institute (the parent organisation of Kangan Institute) for Victorian Large Training Provider of the Year.
"I'd like to congratulate our teacher Luke Perry for being named a finalist for the VET Teacher/Trainer of the Year Award. It's a great testament to his hard work, innovation and leadership," said Bendigo Kangan Institute's CEO Trevor Schwenke.
"To be shortlisted as a finalist in the Victorian Large Training Provider Award is an enormous recognition of everything that Bendigo Kangan Institute has achieved in 2015, including our financial turnaround, integration progress and industry partnerships, all amidst a challenging time for the TAFE sector in general.
"Our success in 2015 is a real testament to the quality of our people and support of our customers, and we entered this award as an acknowledgement to them."
The annual Victorian Training Awards recognises and awards outstanding achievements amongst training providers, teachers, vocational students and more.  Victorian winners will be announced on 26 August and have the opportunity to progress into the 2016 Australian Training Awards within their respective categories.