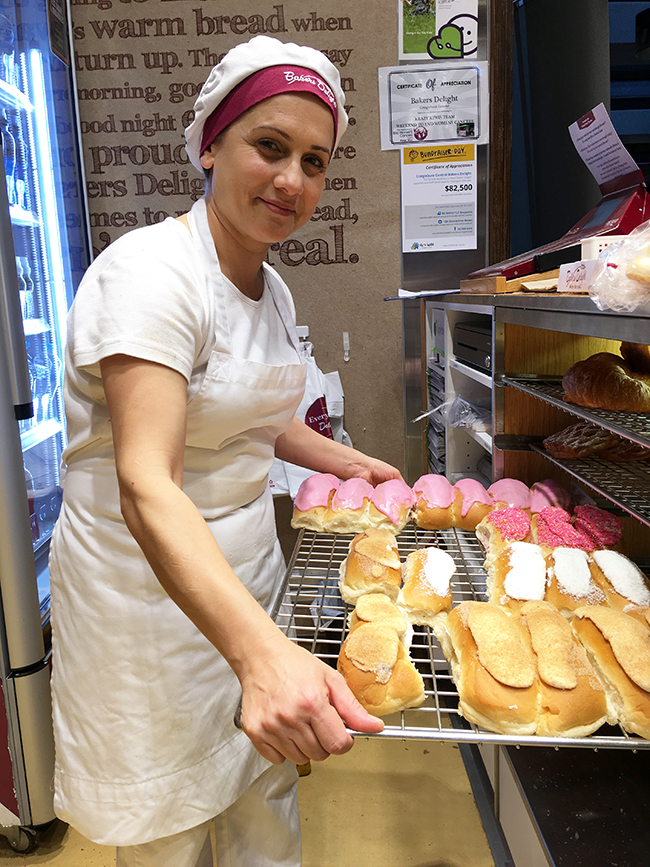 Kangan Institute's new retail baking course at Broadmeadows campus has been supporting our local community with gaining access to practical training and job opportunities within the baking industry.
Currently an apprentice baker at Bakers Delight, Janet Sleiman is one student who has benefitted from the new program. Her journey began after approaching Kangan Institute's retail baking lead educator, Nagwa Mikhail, about the course and career options.
"Nagwa explained how the course was going to be at TAFE and she said she knew someone who could help me to start work and study again. I was referred to Bakers Delight and then offered a job as an apprentice," said Janet.
Re-entering the workforce as an apprentice baker was a dream-come-true for Janet who spent the last five years dedicated to raising her children.
"I've always loved baking – I used to bake cakes at home so I'm really into it. My training has been beautiful so far and I like that it's practical. Baking is a skill that's worth learning and it's enjoyable," she said.
"If it's possible, I'd like to own a small coffee shop in the future serving homemade treats like desserts, breads and sandwiches."
Launched earlier this year, Kangan Institute's new retail baking course is delivered at a purpose-built baking facility at Broadmeadows campus. Learners can choose to specialise in bread or cake and pastry, or combine the two streams. On-site workplace training for apprentices is also available.
"Our new course aims to support Hume and its surrounds with a viable training path leading to real job opportunities. There's a real demand for skilled bakers; in fact the 2015 Victorian Training Market Report lists bakers as an in-demand occupation," said lead educator Nagwa Mikhail.
"The course has been incredibly well-received by individuals and businesses looking for flexible apprenticeship training solutions. Some of our partners include local bakeries like Bernard's Bakery and Morgan's Bakery, as well as national and international businesses like Bakers Delight and Borg's Pastries."