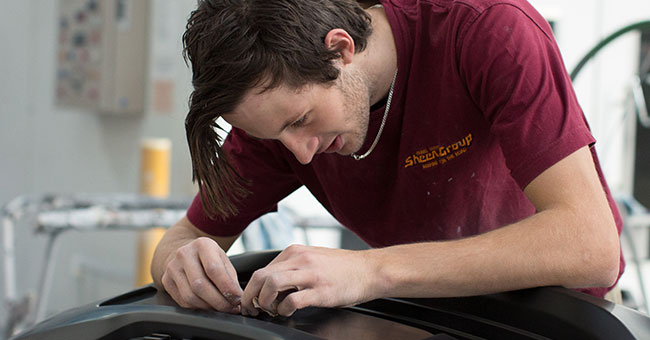 Kangan Institute's Automotive Centre of Excellence (ACE) is proud to announce a new partnership with Sheen Panel Service to enhance the skills and expertise of our paint and panel apprentices.
This partnership will allow apprentices to train using specific Sheen products and equipment. This means that apprentices can become familiar with their tools before taking hold of them in the workshop.
This extends to a wide range of products and equipment. For example, Sheen painters use premium paints in store, so that's the paint they'll be using in class.
By taking this approach, apprentices can be supplied with more tailored training and better practical experience. It will equip them with the specific skills they need to do the job right first time, every time.
The ACE and Sheen have been in talks since the beginning of this year, with Sheen choosing to work with the ACE because of its state-of-the-art automotive training facilities and its ability to tailor training.
Scott Douglas, compliance manager at Sheen says, "When considering our options for a training provider, Kangan were a standout from the start. Whether it be the level of knowledge and dedication of the teaching staff, the tailored training packages or the impressive facility that is ACE, it made our decision easy."
Michael Mavrikakis, team leader autobody at Kangan Institute says, "We're honoured that Sheen has approached us in regards to developing a program in order to supply them with apprentice candidates. We've been working closely in order to formulate a streamlined approach to supply their workshops with panel beating and painting apprentices via Sheen's dedicated pre-apprenticeship course."
Effective this month, ACE training will be provided to all new and existing Sheen apprentice panel beaters and painters. Training for detailers, assemblers and management is being considered for the future.
About Sheen Panel Service
Sheen Panel Service is one Victoria's leading panel beating networks. Since 1969, Sheen has provided Victorians with high quality service and superior workmanship.
While Sheen now covers all of Victoria thanks to 25 panel beating locations (including two towing depots), they remain a proudly family-run business. They carry out a wide range of panel beating services and are committed to delivering the highest quality products and service. For more information visit the Sheen Panel Service website or call 1300 REPAIR.