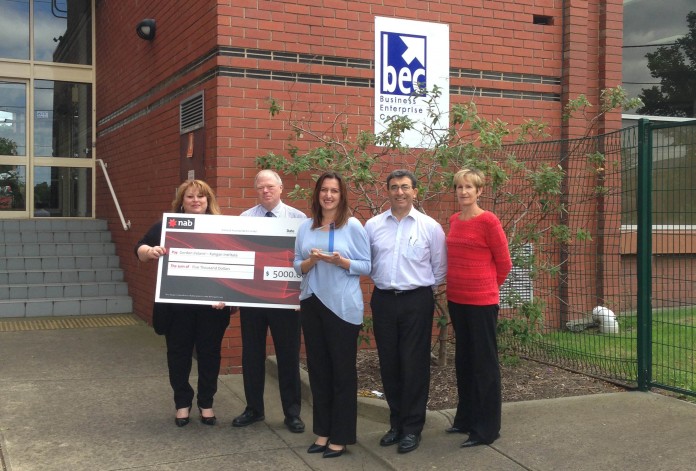 Kangan Institute's Essendon campus-based Business Enterprise Centre (BEC) has been taking huge strides in enabling small business owners in Melbourne and western regions to build and grow their businesses, and was awarded the 2015 Sponsor Organisation Award by National Australia Bank (NAB) at the Australian Small Business Development Conference in October last year.
The award celebrates excellence in providing access, support and facilitation enabling a small business to achieve success. The business in question – Long Street Coffee in Richmond – is a social enterprise café set up in June following mentoring and finance acquisition assistance from the BEC team.
"Within four months the café had achieved its 12 month forecast and has since been assisting young refugees with the opportunity to learn basic hospitality skills," said Joe Imbesi, manager of Kangan Institute's BEC.
At the conference Kangan Institute's business consultant and NEIS coordinator Gordon Ireland also won the 2015 Mentor Award for mentoring the café owners through the start-up phase. The café rounded off the night of success with the 2015 Greatest Impact Business Award.
This is not the first time for Kangan Institute's BEC to be recognised nationally for its role in growing small businesses through the New Enterprise Incentive Scheme (NEIS) and other fee for service programs.
In 2014 the centre was named Best Metro BEC in Australia by BEC Australia for its exceptional service to local business communities, with the 2014 Best Metro Mentor Award also awarded to the team's consultant Martin Dowling.
A further award, the National NEIS Association's 2014 Life Change Business Award, was received by a childcare business that was set up following support and mentoring by Kangan Institute's BEC. The award recognised the dramatic improvement in the lives of the business owners who managed to forge a successful livelihood after prolonged unemployment since emigrating from Eritrea.
"To be collectively recognised across a range of sectors, both commercial and government, is a great testament to our work," said Joe.
"The centre is looking forward to continuing its important work with the NEIS as well as building on our reputation as a wider small business advisor for inner Melbourne and the western region."
The BEC team currently works with small businesses throughout Melbourne and western regions, including Bendigo and Ballarat. More information about the centre is available on the Kangan Institute website.